How to Grab this deal:

Click add to cart
No Coupon Req
Fill or select your shipping details
Pay the amount
Get microbiological safe water with Pureit 7.5 – 8 Ltr Pureit Ultima RO+UV with Oxy Tube Water Purifier. This works on the latest RO + UV i.e. Reverse Osmosis and Ultra- violet technologies. The 100 % water passage removes every minute impurity with its built-in 6 stage water purification and the powerful germkill kit capacity. The specially equipped advanced voltage fluctuation guard protects the purifier from sudden voltage fluctuations (as high as up to 300 volts). Its OxyBlast technology removes chemicals and pesticides from the surface of fruits and vegetables making it healthy to eat. It offers 1 year Pureit India warranty.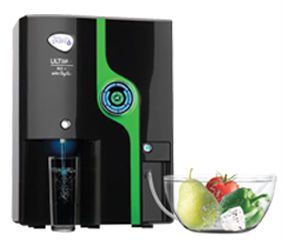 6 Stage Purification Technology
The Pureit Ultima RO + UV with OxyTube Water Purifier has a 6-Stage Purification System which removes excess total dissolved solids (TDS) to make your water tastier. In this process water passes through the Pre-Sediment Filter, Pre-RO Carbon Filter, Post-Carbon Sediment Filter, RO Membrane, high intensity UV lamp and Post-RO Carbon Filter. It uses OxyBlast technology to remove chemicals and pesticides from the surface of fruits and vegetables.
Advanced Alert System
The purifier consists of two advanced alert systems. It has a purity indicator which makes sure that you drink pure and healthy water every time. Depending on the input water pressure, TDS and water temperature the Germkill kit can give you approximately 4000 L of purified water. This system alerts you when you need to replace the Germkill Kit, 15 days before the end of every 180 days approximately or 15 hours before completion of every 200 hours of pump running time, whichever is earlier. Moreover, in case of specific electrical faults, its Guided Alert System ensures that a segment of the red band starts indicating where the fault is. This way it protects you from drinking contaminated water.
90 per cent TDS Reduction
This smart purifier not only purifies water but its TDS modulator also adds minerals to the water once the purification process is completed. As a result, taste of water is enhanced. The TDS modulator works on 90 per cent TDS reduction working capacity and removes TDS up to 2000 ppm. Hence, even the hard water is converted to soft and sweet drinkable water. Further, as the water passes through RO and then UV, all the harmful chemicals like lead, arsenic and mercury gets completely removed so that you get safe and pure water always.
Purification Capacity
Now have fresh and pure water stored for you. The Pureit 7.5 – 8 Ltr Pureit Ultima RO+UV with Oxy Tube Water Purifier has a purifying capacity of 9-12 litres per hour. However, the time taken to purify water depends on the life of the filters, the input water pressure, TDS and other impurities present in water.
Storage Capacity
Quench the thirst of your whole family. It has a storage capacity of 7.5 to 8 litres with running water. The process of filling the storage tank is fully automatic and when you take water out of the tank, the purification process automatically starts and refills the storage tank. The large storage tank of 8 litres ensures the availability of purified drinking water even when there is no running water in your tap.
RO Protection Lock
The most attractive and intelligently designed feature of this purifier is the built-in RO Protection Lock facility. Once the Germkill kit life is over, the RO Protection Lock of Pureit 7.5 – 8 Ltr Pureit Ultima RO+UV with Oxy Tube Water Purifier automatically stops the flow of water so as to prevent you from drinking non purified water and makes sure that you get safe water always.
Food Grade Non-Toxic Plastic Body
The body of this water purifier has been engineered with non-breakable and non-toxic food grade plastic. It not only adds a smooth surface to the body of this water purifier and it also gives a long life to it.